The pharmacy recently went through a change in pharmacy software. Because of this change, if you tried to log in to connect to your prescription profile, it has been deactivated. We are sorry for any inconvenience this has caused.
Good news is we now have a new program in place.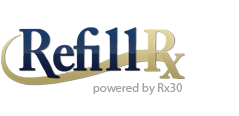 Below is the link for the new refill program. You can still view your prescription profile, add family members, and get email notifications when the prescription is filled. Text and phone calls are no longer available with the new platform.
You can access the new refill platform by clicking here www.refillrx.com
You will need the last four digits of our phone number to pull up our store 1121 and our zip code 07739
Once you have added Little Silver Family Pharmacy you will need any existing prescription number (from bottle) name, address, and DOB.
There is also an application for your smartphone. To download RefillRx Mobile:

https://play.google.com/store/apps/details?id=com.rx30.refillrx (Android)
https://itunes.apple.com/us/app/refillrx/id1051322965?ls=1&mt=8 (iPhone)
Or go to app store and type in refillrx (you will see a red and white pill)
Thank you for your continued support. If you have any questions feel free to call or email us at info@littlesilverfamilypharmacy.com